Obituary for BRETT TYLER KEELING
Brett Tyler Keeling, age 19, passed away Thursday, January 4, 2018. He was born April 28, 1998, in Springfield, Missouri, the son of Ronald and Amy Keeling. He grew up in Clever, Missouri, and graduated from Clever High School. He was currently attending Drury University in Springfield. He attended the Billings United Methodist Church.

Brett was an outgoing young man that was always kind and respectful to adults and children alike. He never met a stranger.

He was an amazing big brother to Ashtin and Nolan. He loved to make people laugh. His gorgeous smile would light up a room.

Brett was preceded in death by his paternal grandparents, Howard and Twila Keeling. He is survived by his parents, Ronald and Amy; a sister, Ashtin; a brother, Nolan; his girlfriend and love of his life, Saima Akhtar; maternal grandparents, Pam Schaefer, Fred Schaefer, and Randy Brown; aunts, uncles, cousins; and a host of friends.

There will be a visitation 5:00 P.M. until 7:30 P.M., Monday, January 8, 2018, and the funeral service at 1:00 P.M., Tuesday, January 9, in Meadors Funeral Home, 304 E. Drive St., Clever, Missouri. Following the service, Brett will be laid to rest beside his grandparents in Dice Cemetery, Fairview, Missouri.

In lieu of flowers, the family requests memorial contributions be made to the Brett Keeling Memorial Scholarship Fund at Mid-Missouri Bank in Republic. Online condolences may be shared on this website, at www.meadorsfuneralhome.com

A MOTHER'S THOUGHT'S:

Children are a blessing; the most precious gift from God. Sometimes God is ready to call them home before we're ready to let them go. There is no greater pain, sorrow or emptiness. It's a perpetual longing for their return. But as much as it hurts, it's what's meant to be. It's God's plan.

I want to tell you about the child God created for us. I want you to understand how special and precious and wonderful he was. Although I will never be able to convey what an absolute treasure he was, I will try. For him.

Brett came as a surprise blessing. Ron and I had only been married a year or so, and we were in the process of building a new house. We had no idea it would soon be filled with so much love and laughter. We moved in on Valentine's Day and Brett was born just a couple months later. April 28, 1998.

From the time Brett was in the womb, Ron called him Bubba. That name stuck with him. When he went to preschool, he proudly introduced himself as "Brett Tyler Keeling Bubba!" Over time, he somewhat grew out of that name, but he was still my Bub. He's still saved in Ron's phone as Bubba. As Joe King used to say, "Good ol' Bubba."

Bub was the kid who always held the door for others. He always said please and thank you. He respectfully addressed others as ma'am and sir. He was always kind to the kids no one else paid attention to, and went out of his way to speak to them and make them laugh. He was friends with everyone. He was nice to everyone. He loved to make people laugh. His gorgeous smile would light up a room (and melt my heart).

He was an amazing big brother. He and Ashtin fought like cats and dogs when they were younger, but they grew extremely close as they got older. Brett used to take Ash out to lunch every Friday, and even after he went to college they'd still go eat together as often as they could. They would text each other from across the hall and he'd get up in the middle of the night just to take her a drink. They told each other everything and he was always there for her--even if that meant making a trip to the post office to get her grade card and burn it before we could see it.

Brett was simply precious to his baby brother. He'd hold him and play with him every chance he got. He taught him about sports, dinosaurs, cows, and how to pick on their sister. Nolan loved to sit on Brett's lap at the table and eat with him. Bubby's food always seemed to taste better. Bubby would always give him whatever he wanted. No matter what.

Brett was so very special to his Saima. She was his long-time girlfriend and future wife. She was his world, his one true love, his Princess. He loved her with a fiery passion. He absolutely adored her and loved giving her a hard time. He'd tease her relentlessly, but always made her laugh. They were a perfect pair.

Brett was a true mama's boy. He was never afraid to hug me in public. We had a secret handshake. He still let me tuck him in at night. There was rarely a time that he didn't answer my call or respond to my text--no matter what he was doing or who he was with. And he ALWAYS told me he loved me. He never replied without an "I love you!" Even if it was just a short conversation or a quick text. He told me he loved me every time. Every. Single. Time.

Brett looked up to his dad and wanted to be just like him. He often talked about Ron being the hardest working person he knew, and he strived to exhibit that same work ethic. He appreciated all the things his dad did for him, and he was proud of everything Ron taught him. He planned to have his own farm and family someday.

Bub also had a very close bond with his Nana. He loved her immensely and always enjoyed spending time with her. He spent the night at her house every Saturday night and helped her with whatever she needed. He made her feel special. He made her happy.

He also loved and cherished his aunts, uncles, cousins, friends, and the rest of the family. Every single one of them will tell you that he was an amazing person who always made them laugh. He was funny, charming, witty, smart, polite, sweet and kind. He was simply irreplaceable.

I could go on and on about Brett all day, but there is no way to truly portray who he was. Just remember that his light shined like no other.
To send flowers or a remembrance gift to the family of BRETT TYLER KEELING, please visit our Tribute Store.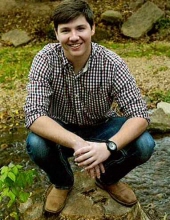 Thank you for sharing your
memory of BRETT
Provide comfort by sending fresh
flowers from our local florist.
No thanks, please don't show me this again.